Between turkeys, guests and kids, hosting Thanksgiving at home can get a little hectic.
The good news is that your SmartWired-powered smart home security system has some helpful tricks that can make things easier.
Here are three that you should consider setting up before Thanksgiving Day.
1: Open your door, save energy
From last-minute shopping runs to welcoming visitors, you'll be opening your front door a lot during the holiday. When your heating is running at the same time, you can end up paying to 'heat the neighborhood.'
If you have a SmartWired Smart Thermostat, now is the time to activate the 'auto set-back' feature. When your front door's contact sensor detects that your door is open for a long time, your thermostat will automatically set back to save energy and protect your heating bill. As soon as you close the door, it starts up again.
2: Give guests anytime access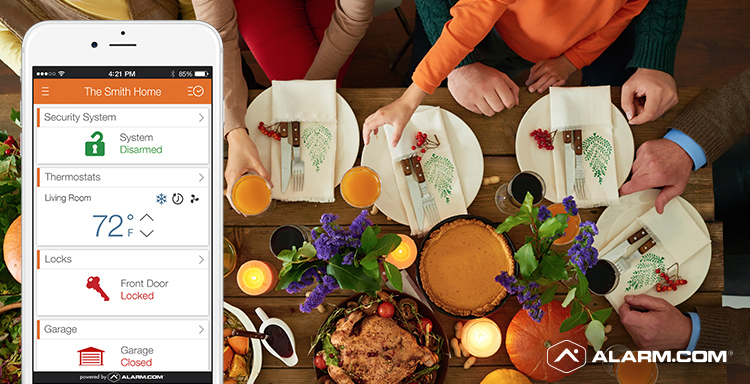 Are you hosting family members for several nights? As part of their welcome, give them their very own code to your front door.

Unique user codes let your guests come and go as they please, with no need for a spare key. They can also trigger a smartphone alert every time it's used. This is great if you're away from home and want to know who's coming and going.

User codes are easy to set up in your mobile app, and come with the option of automatically expiring on a set date. Note: this is for your convenience, not for hinting that your guests have overstayed 😉

3: Get proactive protection from fire danger

Between log fires and deep fryers, Thanksgiving Day typically sees an increase in house fires across the country. As well as being extra-mindful on the day, make sure that your home is protected in advance.

SmartWired-powered smart smoke detectors don't just warn you about a fire: they proactively alert your monitoring station, who dispatch your local fire department. If you don't have smart smoke and carbon monoxide detectors installed yet, now is a good time to talk to us at SmartWired about adding them.

We hope you have a happy, safe and smart Thanksgiving!

Don't have SmartWired in your home yet? Click here to get started.